Patrick Gallois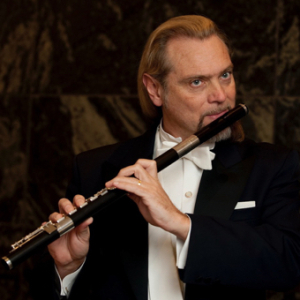 Patrick Gallois leads a highly successful international career as soloist and conductor. From the age of 17, he studied with Jean-Pierre Rampal at the Paris conservatory and at 21 was appointed 1st flute of the Orchestre National de France, under Lorin Maazel Music Director. He has worked under the direction of such legendary conductors as Leonard Bernstein, Seiji Ozawa, Pierre Boulez, Karl Boehm, Eugen Jochum, Sergiu Celibidache. In 1984 Gallois left his orchestral vacancies to focus on solo career on his solo career.
Flautist
Patrick Gallois regularly performs and records with such conductors as Sir Neville Marriner, Lorin Maazel, Antal Dorati, Leif Segerstam and in chamber music formations with Yuri Bashmet, Natalia Gutman, Peter Schreier, Jorg Demus, the Linsday Quartet and formerly with Jean Pierre Rampal and lily Laskine. He is frequently invited to perform with major orchestras throughout Europe and Asia, as well as at international music festivals including: The Proms (London), Pollenca Festival, Monte Carlo Printemps des Arts, City of London Festival, Theatre des Champs-Elysees (Paris) with Fabio Biondi, Philharmonia Orchestra, Monte Carlo Philharmonic Orchestra, Capitole de Toulouse, Chamber Orchestra of Lausanne, Orquestra de Euskadi, Oregon Symphony Orchestra, Orchestre National de Belgique, Helsinki Philharmonic, Lahti Symphony, Orchestre d'Auvergne, Sinfonia Varsovia, Danish Radio Symphony Orchestra, Deutsche Kammerakademie Neuss, Kolner Kammerorchester, Edmonton Symphony Orchestra, London Mozart Players, Orpheus Chamber Orchestra, etc... He regularly tours Germany, Japan and Israel and gives annual master classes at the prestigious Academia Chigiana (Sienna) and the Banff Centre for the Arts (Canada).
Repertoire

Patrick Gallois's repertoire is extremely varied and includes with a strong taste for contemporary music. He has performed the world premiere of many new concerti such as Eric Tanguy's 2nd Flute Cto. (Saint-Riquier Festival 1994), Sallinen's concerto (Helsinki Contemporary Music 1995). He regularly plays Rautavaara's and Penderecki's concerti, the latter under the direction of the composer with Sinfonia Varsovia, Orchestre de Chambre de Lausanne, Stuttgarter Philharmoniker and the Japanese Philharmonic. Many new works have been dedicated and premiered by Patrick including: Kristof Maratka's Cto (1997), Marcel Landowski's flute Cto No.2 (1998), Renaud Cagneux's Cto. for flute and harp (1998), Jacques Desbiere's Cto, Kristos Hartzis's concerto and in November 2001, Kai Nieminen's concerto "Palomar". Other composers have written concerti for him and those premiered in 2003/4 were by Emil Tabakov concerto for 2 flutes (Sofia, Jan 2003), Philippe Hersant (Flt Cto, The Hague 2005/06), Jan Sandstrom (Orquestra de Euskadi 2004) and Rocco Abate (Italy 2005). Both Karen Tanaka and Kelly-Mary Murphy wrote a concerti for flute and cello dedicated to Patrick Gallois and Shauna Rolston (for Radio France and CBC Canada 2004), as well as Ron Royer (double concerto for flute and cello) was be premiered in Finland in 2004, and Jose Luis Campana (flute concerto, Argentina 2005/2006).