Ludmila Peterková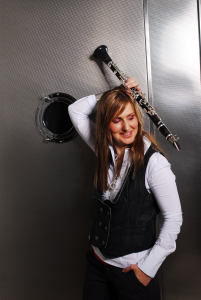 The famous Czech clarinet player works as a soloist, teacher at the Prague Conservatory and moderator. She is a laureate of the Prague Spring 1991 competition, laureate of the Talent of the Year award, Harmony for the best recording of 2001 and others.
Last year she was a guest in Moscow where she performed with the Tchaikowsky Symphony Orchestra and well-known conductor Vladimir Fedoseyev the Ondrej Kukal ´s Clarinettino. On Czech TV you could have seen her during Trebbia Prize 2014 or open air concert of Czech Philharmonic and conductor Jiri Belohlavek.
For the company Supraphon, with which she has worked already since 1993, she has recorded already 10 titles, the best selling was Playful Clarinet , which is full of well-known melodies. She taped the last CD with the Bennewitz quartet, which includes compositions by Mozart, Rejcha and Kukal. A new title of Smetana Trio, who invited Ludmila Peterková to record Brahms' Trio, is also currently on the market.
She has taught at the Prague Conservatory already since she was 27, performers from Italy, France, Poland, Korea, Japan and Egypt have passed through her hands. In Domažlice, West Bohemia, she also organises her own summer course of clarinet and chamber performance.
As a moderator, she has accompanied the television recordings of the concerts of the music festival Dvořák's Prague; in the past, she has also moderated Terra Musica and ExpoHlednice. She also played a small role in the TV serial 'Hop nebo trop' (Hit or Miss).