Drahomíra Matznerová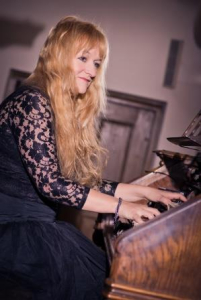 Drahomíra Matznerová Chvátalová studied at the Prague Conservatory under the direction of Professor Jana Hory and at the Academy of Performing Arts in the class of Professor Jaroslava Tůmy. During her studies she participated in a number of organ courses in the Czech Republic, the Netherlands and France led by Petra Ebena, Martina Sandera, Heidi Emmert, Jana Jongepiera and Jana Willema Janssena. For the study, she received the third prize for Organ Competition Petra Ebena, at the international competition Moravian Autumn she advanced to the semifinals.
The focus of her repertoire is romantic and modern music, with a special focus on French organ literature of the 19th and 20 century. For Czech Radio she has recorded many premiers for leading Czech composers; Jiřího Ropka, Jiřího Laburdy, Jana Bernátka, Karla Skleničky and Emila Viklického.
As a soloist she performs regularly at home and abroad. She has performed at festivals such as St. Wenceslas Festival, Days of Contemporary Music, Tanvald Musical Spring Festival of Chamber Music in Český Krumlov. In the Fall of 2009 she gave a concert for organ and orchestra by Francis Poulenc at the final evening of Lesser Town Chamber Festival. In 2011, she performed a solo recital at the International Music Festival Prague Spring, the same year she performed at the International Festival in Kutna Hora and Organ Festival in St. Vitus Cathedral in Prague. In 2012, in collaboration with the trumpet soloist Janem Hasenöhrlem, she debuted the world premiere of Emila Vilklického's "Variations on Over The Rainbow" at the festival PROMS. In 2013, she will double as a soloist of the North Czech Philharmonic Teplice, at the International Organ Festival in Manchester and in early 2014, the Prague Symphony Orchestra in Smetana Hall in Prague. She was highly praised by the critics at all stages where she performed.
Drahomíra Matznerová is also a sought-after chamber musician , collaborating with leading vocal and instrumental soloists. Outside chamber music and solo activity, she continuously devotes to further her repertoire to include different sets of musical oratorio literature.
Since 1995 she has worked as a titular organist at the Church of Our Lady Victorious in Prague's Lesser Town, where she played for Pope Benedict XVI during a visit to the Infant Jesus of Prague. Since 1996, she is also the organist at the ceremonial hall of the New Town Hall.