Irvin Venyš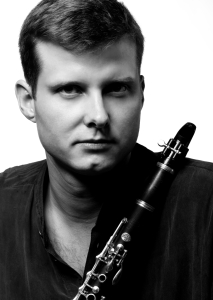 Born in 1981 in Czech Republic.



He graduated from The Brno Conservatory in the class of Mr. Břetislav Winkler in 2000. he then attended the Academy of Performing Arts in Prague in the clarinet class of professors Jiří Hlaváč and Vlastimil Mareš, where he gained his Master's degree (2007).



In 2005 he was awarded a one year scholarship to study at Conservatoir National Supérieur de Musique et de Danse de Paris in the class of professor Michel Arrignon.



He took part in many national and international competitions, for example, the International Clarinet Competition in Madeira 2004 - 2nd prize (1st not awarded), Jean Francaix international clarinet competition Paris – 2nd prize, Carl Nielsen international competition Denemark - semifinal, Yamaha competition in Prague - 1st prize, and the International clarinet competition in Markneukirchen - 3rd prize.



So far his biggest success was the first prize and the title of the absolute winner in the prestigious competition Pacem in Terris in Bayreuth 2007, where he was able to succeed amongst the top international wind artists in several instrument groups (clarinet, oboe, flute, bassoon, saxophone), as well as the most recent accomplishment - second prize in the international clarinet competition Prague Spring.



As a soloist he has performed in various countries (Spain, France, Germany, Japan, Switzerland etc.) with numerous artists as Heinz-Jörg Schellenberger, Radovan Vlatkovic, Zakhar Bron, Peter Czaba, Marta Gulyas and Igor Ardašev. He was also recorded for The Czech Radio and Czech National Television and Mitteldeutsch Rundfunk.
Programme tips:

Moving Clarinet
IRVIN VENYŠ – clarinet, MARTIN KASÍK - piano
Martinů, Brahms, Páleníček

Trio DuBois
IRVIN VENYŠ – clarinet, JAN THURI - oboe, MARTIN PETRÁK - bassoon
Beethoven, Mysliveček, Mozart

Con Variazioni
IRVIN VENYŠ – clarinet, DANIEL WIESNER - piano
Debussy, Weber, Bernstein, Françaix

Viennese Classics
IRVIN VENYŠ – clarinet, TEREZIE FIALOVÁ - piano, MARKÉTA VRBKOVÁ – violoncello
Mozart, Beethoven, Brahms

Quintet for Clarinet and String Quartet
EPOQUE QUARTET, IRVIN VENYŠ - klarinet
Mozart, Haydn