Kristina Fialová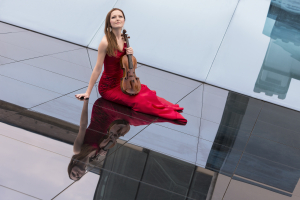 Kristina Fialová is a laureate of many international competitions - Talents for Europe, Competition conservatories, ACT London, Beethoven, Forbest Competition, Alexander and Buono International String Competition, Val Tidone Competition, Danish soloist competition, Johannes Brahms competition, and the Michal Spisak international viola competition.

She has performed as a soloist and chamber musician with both Czech and foreign artists (Radovan Vladkovič, Václav Hudeček, Arild Remmereit, Atos Trio, Peter Nouzovský, Tomas Brauner, Slawomir Chrzanowski, Ivo Kahánek, Rafael Payar, Alexander Gilman, Stanislav Vavřínek, Kocian Quartet) as well as orchestras (Copenhagen Philharmonic, Aarhus Symphony Orchestra, Prague Chamber Philharmonic Orchestra, Brno, Pilsen Philharmonic, Zabrze Philharmonic, Slovak chamber Orchestra Bohdan Warchal, Bohuslav Martinu Philharmonic, Czech Chamber Soloists).

She has performed in most countries of Europe, as well as Africa and the United States. Her festival appearances include the Festival of Music in Prague, Prague premiere, Copenhagen Summer Festival, South Bohemian Chamber Music Festival, Hindsgavl Festival, the renowned Festival Internacional de Santander in Spain and the Bergen International Festival in Norway. In 2012, she made her debut as the first Czech solo violinist at the famous Danish Tivoli Festival in Copenhagen.

She regularly records for Czech and Danish Radio. She took part in the rotation 2 CD ArcoDiva for the company, and in the spring of 2014 she will release her debut CD by Danish music label DACAPO.
She plays Italian viola "Carlo Antonio Testor - 1745 Contrada" and her bow is from the studio master Petra Auředníka.
Programming tips:
Gila Rome – solo recital
Bach, Pendereczki, Hindemith, Bodorová

DUO Kristina Fialová & Martin Levický (piano)
Martinů, Pärt, Janáček, Hindemith

DUO Kristina Fialová & Petr Nouzovský (violoncello)
Mozart, Clarke, Hindemith

DUO Kristina Fialová & Monika Knoblochová (harpsichord)
Vaňhal, Teml, Lukáš
DUO Kristina Fialová & Barbora Plachá (harp)