Marek Štilec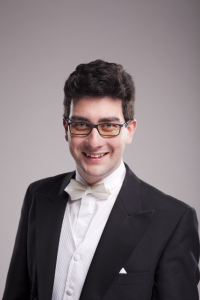 Marek Štilec is one of the most prominent representatives of the young generation of Czech conductors, while also listing a long line of international successes, which include conducting the New World Symphony in Florida under the patronage of Michael Tilson Thomas, as well as a number of international awards for the recordings of the works of Zdeněk Fibich for the Naxos label (2 x New York's WQXR Radio's Album of the Week, Music Web International's 2013 and 2014 Recording of the Year, the 2013 Project of the Year for the magazine, Hudební Rozhledy, and 2 x Tip Harmonie 2014).
Marek Štilec began his musical studies at the Prague Conservatory in the violin class of Dana Vlachová

. He studied conducting with Leo

š Svárovský

, is a graduate of the Academy of Performing Arts in Prague.
Štilec is also an alumnus of the 

International Järvi Academy (

masterclass with Leonid Grin), Jac van Steen´s Emerging Conductors Series and participated in the masterclasses of Jorma Panula, Collin Metters, Vladimír Kiradjev, Gerd Albrecht , Achim Holub and Johannes Gustavsson.
Marek collaborates with a wide range of leading orchestras, including the New World Symphony, Ulster Orchestra,

London Classical Soloists, Das Kurpfalzische Kammerorchester Mannheim, The Orchestra of the Swan, Berlin Camerata, Kammerphilharmonie Graz, National Orchestra of Moldova,

Pärnu City Orchestra, Camerata Titano, Aurora Symphony Orchestra. In the Czech Republic, he works with the Czech National Symphony Orchestra, Prague Radio Symphony Orchestra, Prague Symphony Orchestra, Prague Chamber Orchestra, Czech Chamber Philharmonic Orchestra Pardubice, Prague Philharmonia, Bohuslav Martinů Philharmonic Orchestra Zlín, South Czech Philharmonic, Pilsen Philharmonic Orchestra, Hradec Králové Philharmonic Orchestra.

He is a guest at premier music festivals such as Smetana's Litomyšl Festival

, Prague Spring, Janáček May, International Festival of Concert Melodrama Prague, International Television Festival Golden Prague,

and

Music of Thousands—Mahler Jihlava.

Štilec has also collaborated with soloists such as Thomas Hampson, Gabriela Beňačková,

Štefan Margita, Soňa Červená, Ivan Kusnjer, Andrea Kalivodová, Kateřina Englichová a.o.
At the age of 17, Štilec founded the orchestra, 

Quattro

, in which he acts as conductor and artistic leader.
He also worked with many choirs, including Prague Philharmonic Choir, Houston Symphony Chorus, Martinů Voices, Boni Pueri a.o.
Marek Štilec is a highly sought-after music label conductor, working with leading global classical music labels with 6 albums for the Naxos label, and 3 albums for ArcoDiva. He also collaborates with Czech television and radio broadcasting, and his recordings have been featured by the BBC. Additionally, Marek devotes time to promoting classical music (programs for Czech Radio, Czech and Austrian television: Mahler,  Fibich, Oskar Nedbal), as well as conducting operatic works with such institutions as the Northern Bohemian Opera and Ballet Theatre (Leo Delibes – Lakmé) and the F. X. Šalda Theatre in Liberec (G. Donizetti – Conventions and Inconveniences of the Stage), and premiered the opera, Legend of Catherine of Redern, by Sylvie Bodorová in December 18th, 2014 in Liberec 

(Reichenberg).
In March 2010, Štilec interned with the San Francisco Symphony and its music director, Michael Tilson Thomas, and visited the Maestro again with the New World Symphony in March 2014. In February 2012, Marek embarked on a project to record the complete orchestral works of Zdeněk Fibich with the Czech National Symphony Orchestra (with 4 albums released thus far), and the symphonic works of representative of the Mannheim School, Franz Ignaz Beck (2 album released) for Naxos. Marek Štilec is also working on a large-scale project with this label featuring the works of Czech composers active in Vienna in the 18th century (15-20 albums).
Program Highlights:
Verklärte Nacht - Franz Kafka, Bodorová, Schönberg
Soňa Červená with Quattro chamber orchestra, Marek Štilec - conductor
Schönbrunner Waltz
Quattro Chamber orchestra, Tomáš Vinklát - violin, Marek Štilec – conductor
Mozart, Haydn, Lanner, Kreisler