Martin Kasík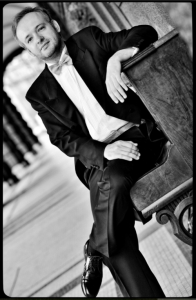 ...They are high-powered performances, technically brilliant and freely expressive...
...In the bravura writing he is strong, fiery and impulsive...
Edward Greenfield, The Gramophone, January 2005
All in all, we were given a full view of the scenery and the bare heart of this pianist.
Yusuke Majima, Keyboard Music, Japan, November 2004
'Intoxicating! Stunning from the first bar to the last.
Répertoire, January 2002
Mr. Kasik plays with a resourceful technique, fluidity, a keen sense of colour and intelligence.
The New York Times, February 14, 2000
In 2000 he was awarded the "Davidoff Prix 2000" for the best young Czech artist in 28 years.



Winner of the Young Concert Artists Competition - World Round, New York 1999



He has performed concerts in USA (Alice Tully Hall New York, Metropolitan Museum New York, Kennedy Center Washington), Canada, Japan (Tokyo Suntory Hall), Taiwan (National Concert Hall Taipei), Singapore (Singapore Victoria Concert Hall), The Netherlands (Concertgebouw Amsterdam, De doelen Rotterdam), France (Théâtre du Châtelet) Germany, Finland (Finlandia Hall Helsinky), Poland, Switzerland (Tonhalle Zürich), Spain (Auditorio di Barcelona) etc.



He has recieved brilliant reviews in The New York Times, The Gramophone, Répertoire, Frankfurter Allgemeine Zeitung, The Washington Post etc.



His first recording "Martin Kasik - Live from Prague" on the ARCO DIVA label was awarded the highest rating of R10 in the French musical magazine 'Repertoire' in January 2000 comparing Kasík's interpretation of Schumann's "Kreisleriana" to those of Martha Argerich and Vladimir Horowitz.



His appearances include the Chicago Symphony Orchestra, Czech Philharmonic Orchestra, New York Chamber Orchestra, Singapore Symphony Orchestra, Deutsche Radio Berlin, Rotterdam Philharmonic, Helsinki Philharmonic, Prague Symphony Orchestra, Slovak Philharmonic, Prague Philharmonia etc.



His 2004 and 2005 season highlights included concerts in UK, Austria, Mallorca, Estonia, Sweden, Japan (Czech Philharmonic Orchestra and Maestro Ken-Ichiro Kobayashi), USA, Taiwan (Czech Philharmonic Orchestra and Maestro Zdeněk Mácal), Switzerland (Prague Philharmonia and Maestro Libor Pešek), Germany and at the main festivals in the Czech Republic



His engagements for the 2005/2006 season featured: USA (Metropolitan Museum New York), Switzerland (Tonhalle Zürich), UK (Bournemouth Symphony Orchestra), France (Le Festival á Fontainebleau), Germany (Bad Kissingen), Spain and the main festivals in the Czech Republic (Prague Spring Int. Festival, Prague Autumn Int. Festival, Int. Festival "Janáček´s May", Emmy Destinn Int. Festival) etc.



In the 2007 season he successfully performed in Germany, Austria, Slovakia, Switzerland - again with the Tonhalle-Orchester Zürich under the baton of Jiri Kout, in France. In 2008, he performed in concerts with the Czech Philharmonic Orchestra in the UK and had scheduled performances for Germany, Poland, Spain and the USA.
Programme tips:
PICTURE AT AN EXHIBITION
the world famous young Czech pianist Martin Kasik in the Mussorgsky masterpiece and works by other composers
SLAVONIC DANCES
Music and literature project (Czech or German version)
Dvořák: Slavonic Dances; Brahms: Hungarian Dances
Antonin Dvořák Unknown - readings from Dvořák's correspondence with the publisher Simrock and Johannes Brahms, full of surprises
Kristina Kasíková, Martin Kasík - piano
Jan Šťastný - narration
Website: www.martinkasik.com