Guido Segers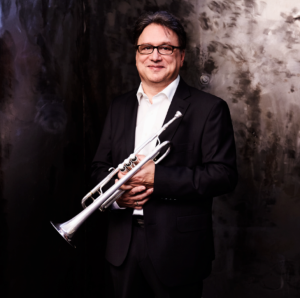 Guido Segers was born in Bree, Belgium. He started his studies at the Royal Conservatory of Music in Brussels. During his first years of training in Brussels and at the Royal Conservatory of Music in Luttich, he was already granted first prizes in the categories of trumpet and chamber music. Further first prizes followed at the competitions "Pro Civitatae" and TENUTO.
From1985 to 1990 the trumpeter received the finishing touches  from his Professor Pierre Thibaud at the "Conservatoire National Superieur de Musique" in Paris. Then, from 1985 on Guido worked as solo trumpeter at the Nationaal Orkest van Belgie in Brussels and served as instructor at the conservatories in Brussels and Maastricht.
In 1994 Guido Segers was chosen to be solo trumpeter of the Munich Philharmonic Orchestra. Chief conductor of that time, Sergiu Celibidache,  enthusiastically declared: 'After so many years we have finally found the right one.' Celibidahce's successor James Levine also is convinced: "Guido Segers is a trumpeter with incredible precision".
As a chamber musician, the trumpeter is in demand in various ensembles. Together with the brass ensemble "Blechschaden", which consists of members of the Munich Philharmonic Orchestra, Guido Segers performs 70 concerts around the world each year. In addition, the trumpeter is a founding member of the Brass Quintet of the Munich Philharmonic Orchestra.
Smaller chamber music groups such as "Trio Con Brio" with trumpet, trombone and piano, or duos with trumpet and organ, as well as trumpet and drums, complete the musician's extensive repertoire.
Along with concerts and recitals as a duo partner and chamber musician, Guido Segers regularly performs as soloist with prominent orchestras such as the Munich Philharmonic Orchestra, the Nationaal Orkest van Belgie and the Limburgs Symphonie Orkest. His concerts are recorded for radio and television.
The support of young artists is  of particular concern to Guido Segers. His work as an instructor includes serving as a co-chair at the College of Music in Tiflis, Georgia/Caucasia, master courses in Germany and abroad, among others at the Schleswig-Holstein music festival.
Since 2000 much attention has been given to the "International Auditions Academy," founded by Guido Segers, which takes place in Munich at regular intervals.
A close musical cooperation connects the musician with renowned trumpeters like Guy Touvron, Bernard Soustrot, Philip Jones or Maurice André, the latter of whom calls Guido Segers an "artist with a warm, soft tone."
https://www.youtube.com/watch?v=g6VSNIUdvBg
https://www.facebook.com/MunichPhilharmonic/videos/1603700979675838/
Program offers:
GUIDO SEGERS - trumpet, Filip Dvořák - harpsichord, The Chamber Orchestra Quattro Prague, Marek Štilec - conductor