Kateřina Englichová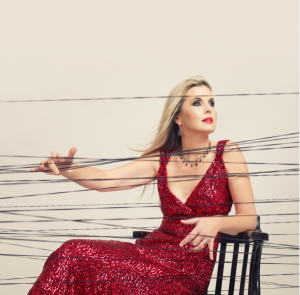 One of the most sought after Czech harpists of her generation, Katerina Englichova performs all over Europe, North America, Japan, Hong Kong and New Zealand. She has collaborated with artists such as Mstislav Rostropovitch, Josef Suk, Gerard Causee, Cynthia Phelps, Carol Wincenc, Michel Lethiec, Eugenia Zukerman, Robert Stallman, Michael Kofler, and with many ensembles, including the Skampa Quartet, the Prazak Quartet, the Haas Quartet and the Wihan Quartet.
Ms.Englichova cooperates on regular basis with with the Czech Oboist Vilem Veverka and the Bohemia-Luxembourg Trio with flutist Carlo Jans and violist Jitka Hosprova.

She has performed at numerous international festivals such as Tanglewood and the Tucson Music Festival in the USA, Music by the Red Sea in Israel, Pacific Music Festival in Japan, Rencontres Musicales d'Evian and Festival d'Ile de France, and in the Czech Republic at Prague Spring, Prague Autumn, Dvorak's Prague, Festival B. Martinu and many others.
Ms.Englichova has made her American recital debut in Weill Hall at Carnegie Hall, New York in 1998. Her debut with the Czech Philharmonic Orchestra took place in January 2008. Other distinguished venues where she has played include the Beethoven Saal in Bonn, Chamber Music Hall of the Berlin Philharmonic, Auditorio Nacional de Musica de Madrid, the Concertgebouw Amsterdam, the City Hall Hongkong, Longy School of Music Boston, the Rudolfinum in Prague etc.
She has appeared with the Philadelphia Orchestra, the San Francisco Chamber Orchestra, Concerto Soloists of Philadelphia, the Hongkong City Chamber Orchestra, the Budapest Symphony Orchestra, the Czech Philharmonic Orchestra, the Prague Chamber Philharmonia, the Czech National Symphony, the Prague Symphony Orchestra, the Brno Philharmonic, George Solti Chamber Orchestra, the Talich Chamber Orchestra, the Suk Chamber Orchestra, Haas Chamber Orchestra, the Brandenburg Symphony Orchestra etc.

Katerina Englichova often initiates new works by contemporary composers such as Jiri Gemrot, Zdenek Lukas, Eric Sessler, Lubos Sluka, Jindrich Feld, Sylvie Bodorova, Patrick Zimmerli and others. Katerina Englichova gave the Czech Premier of the Schnittke´s Concerto for Oboe and Harp in Prague in 2008. She performed for the Prague Spring Festival 2010 the Czech premiere of Murray Schafer´s Dance of Ariadne for Harp and percussion instruments as well as the Concerto and chamber works of Isang Yun. Ms. Englichova gave the Czech Premiere of Frank Martin's Trois danses pour harp et hautbois in 2010. She has been featured in Karl Jenkins' Concerto for 2 Harps and Bach's Concerto for 4 harps in Hongkong. She premiered the work Autumnal Mountain by Christopher Coleman in Hong Kong in 2015.

Katerina Englichova has been heard as a soloist or chamber musician on more than 35 discs with labels such as Supraphon, Harmonia Mundi, Discover International, and New World, Exton Japan, and Arco Diva. Her recording (Jolivet, Pierné, D´Indy, Francaix) with Carlo Jans and the Martinů Quartet received the Supersonic Award. In 2015 she was a part of a new recording "Cosí fan flauti" - project of the renowned American Flutist Robert Stallman with whom she recorded the Mozart Concerto. The CD was very highly praised by critique and was selected as the CD of the month (February 2015) on several classical radio stations throughout North America. In 2016 she released her solo album "Musica per arpa" where she introduced some unknown Czech compositions as well as new premiere works written for her in confrontation with the Britten's Suite. She has cooperated with the well-known American Flutist Carol Wincenc, Pianist Martin Kasik and Oboist Vilem Veverka with whom she also launched her last CD "Impressions" in April 2017. They introduced music by Debussy, a new adaptation of Ravel's "Tombeau de Couprin" for Oboe and Harp by Otomar Kvech and premiered works by the Czech Composer Lubos Sluka.
Her recording of Britten's Ceremony of Carols with the Prague Children Philharmonic Choir was selected as the CD of the month (January 2017).

Originally a pianist, Katerina Englichova is a dedicated adapter of keyboard music of all kind for the harp. Harp, in her opinion, is a wonderful instrument with many layers still to be discovered, but has also some limits. There is a lot of low quality repertoir written for the instrument and Katerina would like to inspire composers as well as harpists to present harp in the best possible way to prevent certain separatism from the rest of the music world.
Ms. Englichova worked with conductors such as Leonard Bernstein, Riccardo Muti, Wolfgang Sawallish, Simon Rattle and others, with Claudio Abbado (in GMJO) and as a soloist with Zdenek Macal, Jiri Belohlavek, Ondrej Kukal, Heiko Matthias Forster, Marek Stilec, Veiga Jardim, Jakub Hrusa, to name just a few.

Katerina Englichova won the Pro Musicis International Award, 1st prize in the Torneo International Competition in Italy, Prague Radio Broadcast Competition, Concerto Soloists Competition in Philadelphia, Vienna Music Competition, E.Herbert-Hobin Harp Competition in USA, and the Laureate Prize of the Chamber Music Society of the Czech Philharmonic.
She studied at the Prague Conservatoire, the Curtis Institute of Music in Philadelphia, (she is a Fulbright recipient) and at the Hochschule fur Musik Hanns Eisler in Berlin. She has given master classes in the USA (Juilliard School of Music, Miami Uni., Arizona State Uni., etc.), Canada (Toronto, Montreal), Hong Kong, Grat Britain (RAM), Italy, Luxembourg and the Czech Republic. Katerina Englichova teaches harp and chamber music at the Ameropa International Summer Courses, since 2005 she has been teaching at the New York University Prague and from 2010-2013 at the Music School of City of Prague. She also teaches privately.

Katerina Englichova has been a member of international competition juries and the Head of Jury of the first Czech "Karel Patras Harp Competition" in Prague. The second K.P. Harp Competition will take place in November 2017.
She is a member of a committee in the "Plavacek Foundation" which supports disadvantaged children in their cultural activities.
She is a member of the Dvořák ´s Society as well as the WHS.
Katerina Englichova has been the Face of the cosmetic company Avon Czech Republic – in a campaign against breast cancer.
Programme tips:
Vltava - solo recital
Smetana/Trneček, Debussy
The Girl with the Flaxen Hair
Impressions
KATEŘINA ENGLICHOVÁ - harp, VILÉM VEVERKA - oboe
MARTIN KASÍK - piano, KATEŘINA ENGLICHOVÁ – harp
Albeniz, Granados, Janáček, Dusík
DUO ENGLICHOVÁ - SLOVÁČEK
FELIX SLOVÁČEK jr. - saxophone, KATEŘINA ENGLICHOVÁ – harp
Svoboda, Popelka, Morricone
Hosprenglico
KATEŘINA ENGLICHOVÁ – harp, JITKA HOSPROVÁ - viola
Lukáš, Bax, Paganini