The Path of Love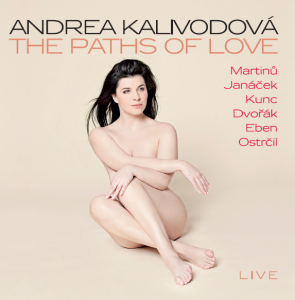 Martinu, Janácek, Dvorák and the less familiar names of Jan Kunc, Otakar Ostrcil, and Petr Eben: this is a treasury of Czech, Slovak, and Moravian songs. The title's no joke, either: these may not all be love songs - the lyrics to Ostrcil's Orphan Childare particularly depressing - but theyareall intimate songs: confidences, so to speak.
A word about mezzo Andrea Kalivodová. Her voice might charitably be described as an acquired taste: there's a distinctive vibrato which I occasionally found irritating, and she occasionally screeches when singing loudly at high pitches. There are a couple moments that made me flinch. But if you acquire the taste for her tone, there are rewards, like the excellent sense of each song's emotional heart and her ability to convey those feelings in tone, or the very conversational way in which she dispatches some of the miniatures. Ladislava Vondrácková makes the most out of the parts the composers give her - most of which are crafted with unusual skill. The recital was recorded live, but there are no technical slips, and no audience noise at all. The only oddity in the acoustic is that Kalivodová was evidently walking about the stage from left to right. The venue was, I'd guess from its sound, quite small.

Magdalena Kožená recorded quite a lot of this music for two DG albums recently. Her voice sets much higher standards for warmth, fullness, and pure beauty of tone; there's also competition in the Petr Eben cycle from an old Supraphon album with the composer himself at thepiano. This repertoire is well off the beaten path (of love?), so if it intrigues you, I do strongly recommend finding a sample clip or two and deciding if the voice will please you. If it does, the interpretations and songs are gems.

I haven't mentioned the cover.
Brian Reinhart, MusisWeb
http://www.musicweb-international.com/classrev/2012/Aug12/Paths_of_love_UP01352131.htm