Czech Contemporary Music for Oboe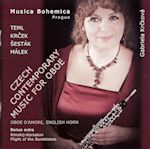 The oboe: such a plaintive, expressive instrument, so good at tugging at the heartstrings, unsurpassed at spinning a lyrical melody of a pastoral nature. Strange then that its solo repertoire, especially that with orchestra, is so limited. The oboe's close cousin the bassoon has a far more extensive list of concertos by important composers though those thirty-plus Vivaldi works do give it a bit of a start. The oboe isn't suited to the pyrotechnics of the clarinet or the acrobatics of the bassoon, and lacks the sheer technical fluidity of the flute. Composers of solo oboe music therefore have to seek out other less extrovert qualities.

So it is pleasing and exciting to come across a disc such as this, with its clutch of recent Czech music for oboe, most of it with orchestra. The accomplished soloist is Gabriela Krčková, whose husband, Jaroslav Krček, is not only the composer of three of the works, but also conducts the excellent chamber orchestra Musica Bohemica. All the composers found here are still alive (according to the booklet), but none is young. Annoyingly, not all the dates of composition are given; the first piece, however – Jiří Teml's Concertino for Oboe and Strings – was, we learn, written as an entry for a composition competition in 1993. It is subtitled 'Hommage à Vivaldi', though, as the composer's note acknowledges, there is no obvious reference to Vivaldi in the music's style or substance. It does however treat the oboe very much as 'primus inter pares', and concentrates on lively discussion between solo and tutti, with many interesting combinations of timbre. The first movement is the most forceful, contrasting the driving rhythms of the first section with sinuously expressive writing so effective on the oboe. The second movement, Nocturno, evokes Bartók – a conscious nod, maybe, towards his famous 'night music' passages, with quiet trills for muted strings forming the background to a high violin melody, later doubled by the oboe. The final Danza is delightful, with, as in the other movements, really brilliant writing for the strings.
Gwyn Parry-Jones
Read more: http://www.musicweb-international.com/classrev/2014/Aug14/Czech_oboe_UP0160.htm