From the Heart of Europe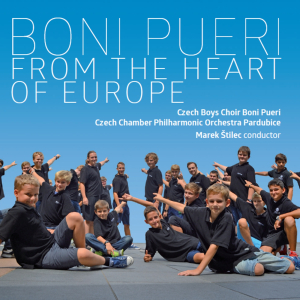 I have greatly enjoyed some of the discs of the Czech four-part boys choir Buoni Pueri over the last few years; a Christmas issue with a very Czech-sounding Ceremony of Carols — but none the worse for it — was particularly delightful. So I was eager to hear this latest offering.

I fear my eagerness quickly dissipated; this is a rag-bag of choral arrangements, with 'souped-up' classics at the beginning and a truly horrendous, though unintentionally amusing, 'Hollywood Medley' at the other end. Hear these choral renditions of Also sprach Zarathustra, Mission Impossible and The Pink Panther and despair.

There are a few acceptable items; Christina Johnston joins the choir for a lovely Panis Angelicus, and the assorted arrangements of Czech, Moravian and Slovak folk-songs are enjoyable, with the characteristically fresh, unaffected singing of the solo trebles well to the fore.

The Ave Maria on track 3, supposedly by Caccini, is in reality by the versatile Russian guitarist, lutenist and composer Vladimir Vavilov, who, like Kreisler, preferred to issue his lighter offerings under a pseudonym. Though why he chose to pick on poor old Caccini, I have no idea. That gentleman was one of the Florentine composers who brought opera into the world, and certainly doesn't deserve to be blamed for this banal little piece. In any case, stylistically Vavilov was about a century out.

So … not a lot to be said I'm afraid. A true disappointment, and I hope they'll be back on form with their next disc. Incidentally, I could track down no dates for Vladimir Popelka.


Gwyn Parry-Jones
http://www.musicweb-international.com/classrev/2016/Feb/Heart_Europe_UP0179.htm