Gabriela Beňačková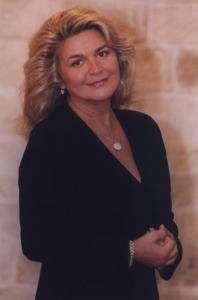 Gabriela Beňačková
The soprano Gabriela Beňačková is one of the most important representatives of the art of singing and of Czech music of the 20th century and of today.
Has often appeared and continues to appear at the Metropolitan Opera in New York. Was the Met's first ever Rusalka in Dvorak's opera of that name.



From the 70s onward has made regular appearances at the Vienna State Opera, in Zurich, at Covent Garden, in Stuttgart, Salzburg and other places in the leading roles of the Czech (Smetana, Dvořák, Janáček), Russian (Tchaikovsky, Prokofiev) and Italian (Puccini) repertoire. Has made frequent appearances also in Japan with the Czech Philharmonic Orchestra and other leading orchestras and conductors in large-scale vocal works (Dvořák, Janáček, Mahler).



Has made a number of opera recordings: Janáček's Káťa Kabanová - a role she has sung at the Met - and The Makropoulos Case (also by Janáček) produced in Brno in 2000. Of particular value are her recordings of the music of Mahler conducted by Václav Neumann.



Has appeared with a number of world famous artists, the singers Luciano Pavarotti, Thomas Hampson, Placido Domingo, the conductors Václav Neumann, Sir Charles Mackerras, Libor Pešek, Claudio Abbado, Bernard Haitink, Ricardo Muti and others.



Most recently apart from concerts with the Czech Philharmonic Orchestra  (Janáček - The Glagolitic Mass, Richard Strauss - Four Last Songs and other large-scale oratorio and cantata works) has been giving Lieder recitals, e.g. at the Mahler Jihlava Festival and the Smetana Litomyšl Festival.
She is Honorary President of the Gustav Mahler Society caring for the Mahler Birthplace at Kaliště in the Czech-Moravian Highlands and organising the International Music Festival MAHLER - JIHLAVA.
Discography Gabriela Beňačková