Anda-Louise Bogza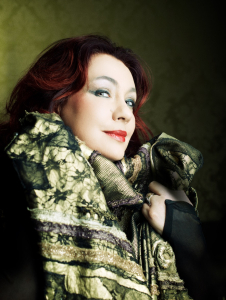 Anda-Louise Bogza
Anda-Louise Bogza has performed in well-renowned opera houses throughout Europe and overseas. She was successful as AIDA at the VIENNA STATE OPERA, BERLIN STATE OPERA, DEUTSCHE OPER BERLIN, and the Opera Leipzig. She has made a big impression as TOSCA at the festival MAGGIO MUSICALE Fiorentino - Florence, at the Bavarian State Opera Munich (conductor Zubin Mehta), Frankfurt Opera, L´Opéra National de Bordeaux, New Israeli Opera Tel Aviv, Grand Théâtre de Luxembourg, SEMPEROPER Dresden - conductor Fabio Luisi, stage director Johannes Schaaf), ARENA di VERONA - (TOSCA - conductor P. Morandi, stage director Hugo de Ana), TOSCA in TEATRO dell´ OPERA di ROMA and at the National Operas of Bratislava, Prague, Bucharest and in Japan. She has sung the role of Katya KABANOVA ("Katia") in Tokyo (SUNTORY HALL), at the Janáček Opera and at the State Opera Prague and the role of DONNA ANNA at the Opera Marseille. She performed MINNIE in Puccini´s "La Fanciulla del West", MANON LESCAUT (Manon) in Teatro Filarmonico Verona (stage director Graham Vick) and ABIGAILLE ("Nabucco") at the Odeon Acropolis Theatre in Athens. She made her successful debut at the Opéra National de Paris BASTILLE, SEMPEROPER and THÉÂTRE ROYAL de la MONNAIE ("Rusalka") and she sang the title role of RUSALKA at the TEATRO dell´ OPERA di ROMA (conductor Günter Neuhold).
Anda-Louise Bogza studied at the "George Enescu" Conservatory and at the Academy of Music in Bucharestand Prague (piano, singing and harpsichord).
She received the First Prize and the Audience Award at the Vienna International Singing Competition and the "THALIA Award" for her role of MINNIE in Puccini´s "LA FANCIULLA DEL WEST".
Anda-Louise Bogza has worked with such conductors as Zubin Mehta, Maurizio Arena, Fabio Luisi, Günter Neuhold, PierGiorgio Morandi, Renato Palumbo, Marco Armiliato, Adam Fischer, Ascher Fisch, Dan Ettinger, Niksa Bareza, Michail Jurovski, F. M. Carminati, Jiří Bělohlávek, Carlo Franci, Jim Wang, Jan Latham-Koenig, John Fiore, Hilary Griffiths, Marco Balderi, Claudio Desderi, Vjekoslav Sutej, Leopold Hager, Jun Märkl, Alexander Vedernikov and with such stage directors as Franco Zeffirelli, Robert Carsen, Hugo de Ana, Nicholas Joel, Graham Vick, Filippo Crivelli, Johannes Schaaf, Alberto Fassini, Manfred Schweigkofler, Mario Corradi, Marco Gandini, Stefan Herheim, B. Corsetti, Götz Friedrich, Vladimír Morávek, Mario Pontiggia.